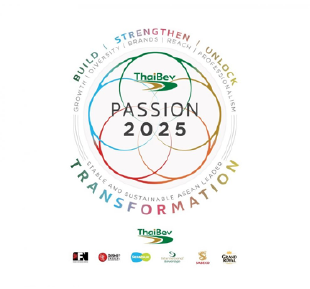 The six-year Vision 2020 project integrates five strategic pillars, which are Growth, Diversity, Brands, Reach and Professionalism.

Vision 2020
Vision 2020 is the business strategy of Thai Bev, Sermsuk's parent firm. It's a six-year roadmap to becoming a solid and sustainable ASEAN multinational company. By encouraging diversity and building on our business strengths, Vision 2020 will reinforce our roots as local market leaders throughout the region while increasing our reach to prospective customers.
Through Vision 2020, Sermsuk will build on our strengths to prepare to meet changing market demands, commit to improving products, enhancing product distribution channels via our business networks, and continue to update our business plan.
Vision 2020 uses communication tools to interact with customers through our brand advertising. It also will help us to add value to our products through distribution channels in local markets, making us more accessible and responsive to customers.
Thai Bev has diversified its business into three major categories, which are alcoholic drinks, beer and non-alcoholic drinks. Each category has its own individual and effective management approach under the Thai Bev corporate umbrella.
Under Vision 2020, Thai Bev F&N aims to build its major brands to fulfill customer's needs and expand opportunities for business growth in local markets across the ASEAN region. Among Thai Bev F&N's major brands are Sangsom, Hong Thong, Blend 285, and Ruang Khao in the alcoholic drinks category; Chang in the beer category; and est, 100Plus, Oishi and NutriSoy in the non-alcoholic drinks category.