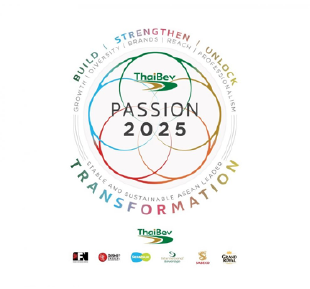 ThaiBev to become 'Stronger Than Ever' with PASSION 2025 and to compete in the international arena
(30 September 2020) Back in 2014, ThaiBev Group announced Vision 2020 and set out to become a stable and sustainable food and beverage leader in ASEAN with five imperatives (Growth, Diversity, Brand, Reach, and Professionalism). The Group has realized many of its ambitious goals. In 2020, ThaiBev is ready to build on the success with another 6-year business plan and become 'Stronger Than Ever' with 'PASSION 2025'. The Group communicated about PASSION 2025 to executives from across the globe at the ThaiBev Group Conference held on 30 September 2020 via ZOOM and then announced PASSION 2025 to the public at an annual press conference held at Samyarn Mitrtown on 01 October 2020.
"Our executives were inspired by Chairman Charoen Sirivadhanabhakdi who always says, "If we pour our hearts together, we can achieve anything." PASSION 2025 will serve as a compass and a reflection of our determination to win together in 2025. By working together, we will drive our businesses toward becoming a stable and sustainable ASEAN leader in the food and beverage industry. During the past few years, we often said that 'The future is now' and It starts with you.' PASSION 2025 will be a journey in which we create something great and meaningful. I would like to invite everyone to join this journey so that we can learn from each other, overcome obstacles, and succeed together."
Thapana Sirivadhanabhakdi
President and CEO
Thai Beverage Public Company Limited
The meaning, values, and importance of PASSION 2025
Vision : To become a stable and sustainable ASEAN leader in the food and beverage industry
Mission : To create and share the values of growth
ThaiBev Global Values : Collaboration, Creating Values, and Caring for Stakeholders.
The Middle Part of the Logo
"PASSION 2025" covers the years 2020-2025 (changes from VISION 2020 that covers the year 2014-2020)
P = Perseverance
A = Admirable
S = Speed
S = Sustainability
I = Innovation
O = ONE
N = Network
The Top Part of the Logo
Five imperatives : Growth, Diversity, Brands, Reach and Professionalism
Three domains : BUILD, STRENGTHEN and UNLOCK
BUILD = Building new capabilities and business opportunities from the existing business foundation.
STRENGTHEN = Strengthening core businesses to maintain a leading position in ASEAN's food and beverage industry and heads toward becoming a key international player.
UNLOCK = Unlocking the potential of employees and ThaiBev Group

The Bottom Part of the Logo
Goal : To become 'Stable and Sustainable ASEAN Leader' (similar to Vision 2020)
Transformation : The Transformation Program reflects the determination of ThaiBev Group to work together and achieve goals with three domains include BUILD, STRENGTHEN, and UNLOCK. The Transformation Program comprises representatives and teams from every business unit. President and CEO Thapana Sirvadhanabhakdi serves as the Transformation Conductor who gives guidelines and ensures that everyone works toward the same goal. Top executives from every product group also serve as Domain CEOs, Drivers, and Enablers.